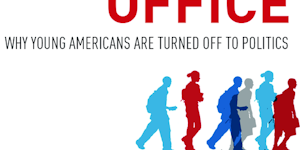 Join us to
• Celebrate milestone anniversary of 95 years
• Recognize and honor our community and League Lavinia Award Winners
• Speaker will be Dr. Jennifer Lawless, author, professor, director of the Women & Politics Institute American University and a senior fellow at Brookings Institute. See flyer here.  
To register, please go to our Eventbrite page.
New Book with Richard L. Fox
"Running from Office:
Why Young Americans Are Turned Off to Politics
Menu
Salad

  Entree Choices: Select one

Grilled Filet of Atlantic Salmon, Fresh Dill Hollandais
OR
Vegetable Lasagna with Portobello Mushroom Garnish, Marinara
All Entrees Served with Appropriate Starch, Fresh Vegetable
and Hot Golden Popovers! 
Dessert
Profiteroles au Chocolate
WHEN
October 19, 2015 at 11:30am - 2:30pm